You're reading d+cks to know, the only newsletter about phallic art on this tiny, crazy planet. If you like it, hit the heart on top of this email, and tell someone you love about it.
---
Phallic Girl [1967] is an expression of self-obliteration which Japanese artist Yayoi Kusama repeats throughout her art as a way of dealing with anxiety, mental health issues, and trauma.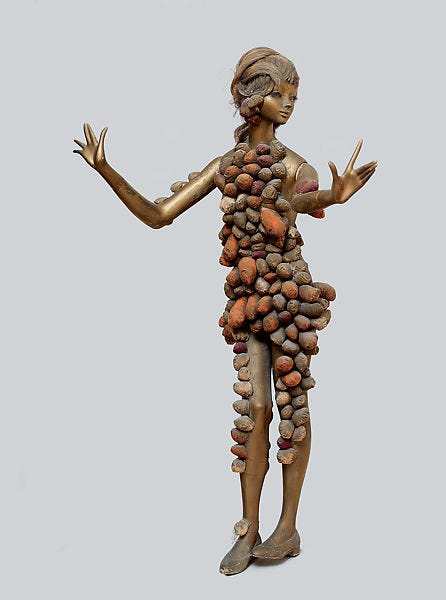 Photo: ©Tate, London 2017
The 1960 was the decade Yayoi established herself on the New York art scene, where she moved at the encouragement of Georgia O'Keeffe. Yayoi's work grew to influence many pop artists of the time, including Andy Warhol, Lucas Samaras, and Claes Oldenburg [see Pop Art Ripoffs].
Yayoi described herself as asexual. As a child, she was often forced by her mother to spy on her father's affairs; this induced a long-lasting trauma, perhaps even a fear of sexual intimacy. She expressed this through the pieces of self-obliteration; pieces abundant in phallic protrusions, abundant in revolt.
Through her use of penile encrustation, Kusama also externalizes sex in a manner that can be seen as a feminist counterpoint to the eroticism of the female mannequin often explored by male artists. [source]
As America grew more conservative, artists like Yayoi, non-white, non-male, foreigners, struggled to keep up and survive in the creative jungle of the growing city of New York. After more than a decade in the US, she decided to go back to Japan. She had to start anew:
When I returned to Japan, they treated me like a very scandalous presence. All the journalists were very backwards and they wanted to portray me in a negative way.
A series of traumatic losses and depression made her homecoming ever harder. In 1974, she vountarily checked in at the mental health hospital that offered art therapy. She's voluntarily lived there permanently since 1977.
Yayoi's comeback on the Western art scene started in the early 1990s. Her infinity rooms nowadays gather some of the largest audiences museums have ever seen. She keeps doing what she's always done best: turn the beasts of her mind into captivating art.
📺 Kusama Infinity: The Art and Life of Yayoi Kusama